In the wake of Sunday's Ethiopian Airlines crash that killed all 157 aboard, calls are mounting for the United States to ground the Boeing 737 Max 8 plane. In October, a crash involving the same Boeing 737 model occurred near Jakarta, Indonesia.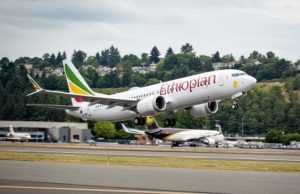 "The latest Boeing 737 MAX 8 disaster should compel the FAA to ground all these aircraft until it is clear that its automated control problems have been fixed," Paul Hudson, president of Flyer's Rights, the nation's largest airline consumer organization wrote in a letter today to Dan Elwell, acting director of the Federal Aviation Administration (FAA).
"The FAA grounded the 787 due to battery fires without any disasters. This action likely saved many lives and Boeing.  If you fail to do so now and a third crash occurs, you will be responsible. You will always be remembered for this decision."
"Please act today before more lives are lost and others have to take charge of safety for this clearly flawed airliner," Hudson wrote.
Senator Dianne Feinstein also called on the FAA to ground the aircraft.
"Until the cause of the crash is known and it's clear that similar risks aren't present in the domestic fleet, I believe all Boeing 737 Max 8 series aircraft operating in the United States should be temporarily grounded," Senator Feinstein wrote in a letter to Elwell. "This aircraft model represents only a small fraction of the domestic fleet, and several other countries have already taken this important step, including China and Indonesia."
Jim Hall, who headed the National Transportation Safety Board from 1994 to 2001, told USA Today that 'it's vital to find out what went wrong before too many of the planes are in the sky."
With 74 MAX 8s flying in the U.S. and 387 flying worldwide, Hall told USA Today that the key is to find any potential major problems with the relatively new aircraft because 4,661 more of the planes are on order.
"I felt the responsible thing for the manufacturer Boeing to do is to ground the aircraft until we know exactly what occurred," Hall told USA Today. "It would seem to be that it would be the responsible thing for the Boeing Co. to pause and take a very close look at these two accidents to find a determination what the cause was, so if there's anything systemic or related to the computer operations of the aircraft, that it can be addressed. That's the prudent thing to do."
Ethiopian Airlines, Cayman Airlines and Comair have grounded their Boeing Max 8 planes.
But Southwest Airlines continues to stand by the plane, which has 34 Boeing 737 Max 8 planes, refusing calls from passengers to ground it.
"We have been in contact with Boeing and will continue to stay close to the investigation as it progresses," Southwest said in a statement to Corporate Crime Reporter. "We remain confident in the safety and airworthiness of our entire fleet of more than 750 Boeing 737 aircraft, and we don't have any changes planned to 737 MAX operations."
"We fly the MAX 8 aircraft throughout the Southwest Network, and it is not allocated to any particular region or city. Customers can click on the flight number when making an online reservation to see the aircraft type."