Why no top Wall Street bankers in jail?
That's a question that has fueled populist fury on the right and the left.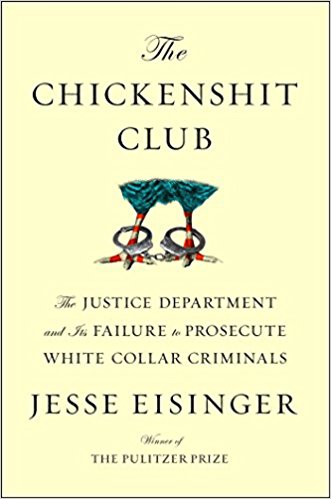 Now, Pulitzer prize winning journalist Jesse Eisinger is about to give us an answer in Chickenshit Club: The Justice Department and Its Failure to Prosecute White-Collar Criminals.
The book is being published by Simon & Schuster and is due out July 11, 2017.
In an interview with Corporate Crime Reporter last year, Eisinger explained that in 2002, when James Comey took his job as U.S. Attorney in Manhattan, he brought together the line attorneys in a meeting and said to them — "we have a name for prosecutors who have never lost a case — the chickenshit club."
"What Comey meant by that was — I want you guys to go out to work on the hardest, most important cases, the most righteous cases and not worry about whether you are going to lose them," Eisinger said. "Our job is to do justice. It's not to worry about winning or losing."
"My argument is that over the course of the decade of losses – like the Bear Stearns trial and the KPMG debacle and problems with the stock options backdating prosecutions and the Ted Stevens fiasco – the Justice Department became overly worried about losing cases. And they raised the bar on prosecutions, particularly of individuals, so high that it couldn't be surmounted. And they always found excuses not to bring the big cases."
Of course, the Justice Department does prosecute all sorts of low level white collar criminals.
But when it comes to corporate crime and violence, a different standard applies.
Eisinger says he's troubled by the double standard not just when it comes to white collar and corporate crime, but throughout the justice system.
"There is an argument that we are putting in prison too many of one kind of criminal and not enough of another kind of criminal," Eisinger said in the interview last year. "And I basically subscribe to that idea. It's a national scandal that we have mass incarceration, especially for many non-violent criminals, disproportionately African American males. This is a terrible problem in American society. Another problem is that corporate officers can act with impunity."