Corporate crime enforcement is down under the Biden Justice Department, with fewer major corporate crime cases being brought in the first two years of the Biden administration than during the first two years of the Trump administration.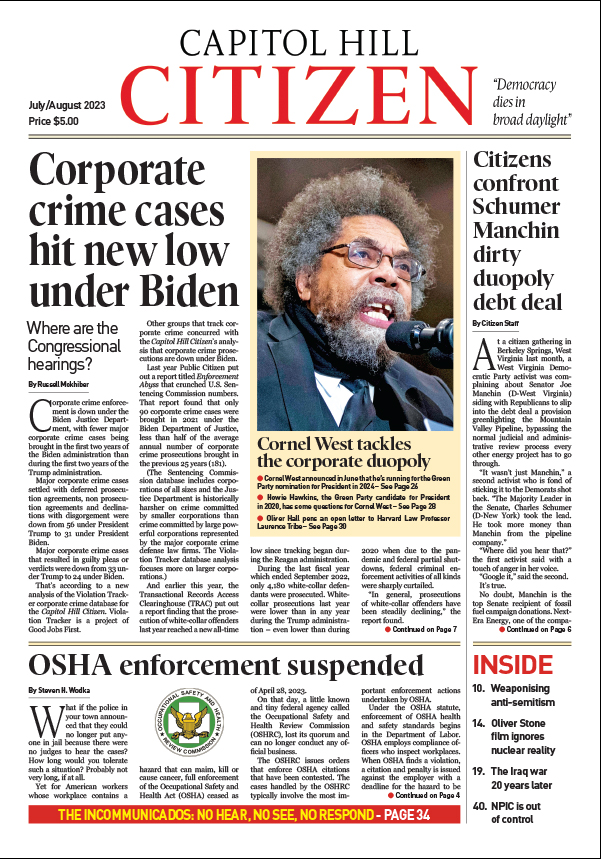 Major corporate crime cases settled with deferred prosecution agreements, non prosecution agreements and declinations with disgorgement were down from 56 under President Trump to 31 under President Biden. Major corporate crime cases that resulted in guilty pleas or verdicts were down from 33 under Trump to 24 under Biden.
That's according to a new analysis of the Violation Tracker corporate crime database for the Capitol Hill Citizen. Violation Tracker is a project of Good Jobs First.
Other groups that track corporate crime concurred with the Capitol Hill Citizen's analysis that corporate crime prosecutions are down under Biden.
Last year Public Citizen put out a report titled Enforcement Abyss that crunched U.S. Sentencing Commission numbers.
That report found that only 90 corporate crime cases were brought in 2021 under the Biden Department of Justice, less than half of the average annual number of corporate crime prosecutions brought in the previous 25 years (181).
(The Sentencing Commission database includes corporations of all sizes and the Justice Department is historically harsher on crime committed by smaller corporations than crime committed by large powerful corporations represented by the major corporate crime defense law firms. The Violation Tracker database analysis focuses more on larger corporations.)
And earlier this year, the Transactional Records Access Clearinghouse (TRAC) put out a report finding that the prosecution of white-collar offenders last year reached a new all-time low since tracking began during the Reagan administration.
During the last fiscal year which ended September 2022, only 4,180 white-collar defendants were prosecuted. White-collar prosecutions last year were lower than in any year during the Trump administration – even lower than during 2020 when due to the pandemic and federal partial shutdowns, federal criminal enforcement activities of all kinds were sharply curtailed.
"In general, prosecutions of white-collar offenders have been steadily declining," the report found.
The TRAC report was looking at the larger group of white-collar crimes. Prosecutors chiefly pursue individuals when prosecuting white-collar crimes. Corporations and other business organizations are rarely prosecuted. Even so, the numbers documented in the TRAC report on corporate crime were shockingly low.
Out of the 4,180 prosecutions for white-collar offenses, 31 (less than one percent) of the defendants were business or corporate entities. This was the lowest number of criminal prosecutions of corporations for white-collar offenses since federal prosecutor tracking began for these in 2004.
One explanation for the decline in corporate crime prosecutions is the meager resources available to the Justice Department. The unit responsible for bringing major corporate crime cases – the Fraud Section – has a total of 78 attorneys. By contrast, just one corporate criminal defense law firm, Jones Day, has more than 2,500 attorneys. Violation Tracker's Phil Mattera says that even when the Biden Justice Department does bring major corporate crime cases, the majority of them have been against foreign multinationals.
"If we look at the largest fines and settlements – say, those above $200 million – announced since Biden took office and documented in Violation Tracker, most of them involve foreign companies," Mattera says. "Aside from BAT, these include Germany's Allianz, Denmark's Danske Bank, Switzerland's Glencore and ABB, Holland's Stellantis, Sweden's Ericsson, India's Sun Pharmaceuticals and the United Kingdom's Barclays."
"These cases certainly have their merits, but it is surprising that there have been so few comparable actions announced against domestic corporations. Corporate crime and misconduct are not exclusively or even primarily an issue with companies based abroad."
Last year, Attorney General Merrick Garland raised hopes that the long anticipated crackdown on corporate crime would begin. In a March 3 speech to the American Bar Association, Garland promised a renewed Justice Department crackdown on corporate crime. That crackdown hasn't materialized.
"Instead, the Justice Department has focused on finding ways to incentivize companies to cooperate with investigations," Mattera says. "There is no explicit policy to this effect, but it appears that prosecutors are going easier on domestic corporate targets while acting tougher with foreign ones," Mattera said. "One gets the impression that business oversight is being used in a way to give domestic companies a competitive advantage." Recent studies show that adverse publicity given to various types of corporate crime enforcement is the most important deterrent to corporate crime.
Because of its failure to bring effective criminal prosecutions against major corporate crimes, the Biden Justice Department is allowing the corporate crime carnage to sweep the nation – from product defects that kill and injure thousands, to frauds that rip off consumers of billions of dollars, to unsafe workplaces that kill or injure the tens of thousands of workers.
With this wave of corporate crime and the Biden Department of Justice failure to criminally prosecute the big cases, where is Congress?
Capitol Hill Citizen reached out to the 44 members of the House Judiciary Committee and the 21 members of the Senate Judiciary Committees to discuss Congressional oversight of the Department of Justice corporate crime program.
Only two of the 65 members of the Judiciary committees sent responses saying that couldn't comment.
The other members of the Judiciary Committees were incommunicado.
In March 2023, frustrated citizen activists who for years had been calling for Congressional hearings on corporate crime enforcement met with staff of Senator Richard Blumenthal (D-Connecticut), a member of the Senate Judiciary Committee and chair of the Senate Permanent Subcommittee on Investigation.
The staff expressed interest in holding corporate crime hearings, but there is no indication that such hearings are in the works.
Instead, to the surprise of the activists, last month Blumenthal demanded communications and records from PGA Tour and LIV Golf regarding their planned merger.
But what about the hearings on corporate crime committed here by major U.S. corporations?
No answer from Blumenthal's office.
Instead, the Senate Judiciary Committee, for example, holds full committee hearings on Protecting Pride: Defending the Civil Rights of LGBTQ+ Americans (June 21, 2023). On Ensuring the Safety and Well-Being of Unaccompanied Children (June 13, 2023).
And a hearing titled – From Farm to Table: Immigrant Workers Get the Job Done (May 31, 2023).
Important hearings to be sure, but not one hearing on the corporate crime wave sweeping over the country – a corporate crime wave that inflicts far more damage on society than all street crime combined?
Not one hearing on corporate crime in forever? (When you type in "corporate crime hearings Congress" into Google, the first items that appear are articles about the Kefauver hearings in the 1950s.)
In November 2020, Congressman Jamie Raskin (D-Maryland) called on the Trump Justice Department to publicly release its corporate crime settlements database so at least Congress would have an idea of the size of the problem it was dealing with.
In an August 13, 2020 letter to Attorney General William Barr, Raskin requested that the list of all corporate deferred and non prosecution agreements "entered into by every division within the Department of Justice and every United States Attorney's Office from 2009 to the present be provided to us and made publicly available as soon as possible."
"It is critical that the Department, regardless of presidential administration, be fully transparent in its dealings with powerful corporate defendants," Raskin told Corporate Crime Reporter in 2020.
But since Biden has been in office, Raskin has not followed up with his Department of Justice to ask Merrick Garland to turn over the database.
There are, however, some databases available to the public now – the Corporate Prosecution Registry from the University of Virginia and Duke University, which includes more than 4,400 entries and Violation Tracker from Good Jobs First with over half a million entries that include civil and criminal actions against corporate wrongdoing.