A two day conference — Revisiting Crimes of the Powerful: A Global Conversation on Capitalism, Corporations and Crime — is set for Osgoode Hall Law School May 25 and 26 in Toronto, Ontario, Canada.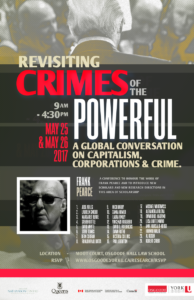 The conference will honor the work of Frank Pearce, Professor Emeritus of Sociology at Queen's University in Kingston, Ontario.
Pearce is the author of Crimes of the Powerful: Marxism, Crime and Deviance, an analysis of the failure of states to bring justice to the victims of corporate crime and violence.
Pearce will give the keynote opening address — Crimes of the Powerful: An Enduring Framework.
Other talks during the conference include – Snowwashing – Canada, Open for Business, by Robert Cribb, Why is There No Criminology of Wage Theft? Why Is There No Criminology of a $50 Billion Annual Problem that Affects Our Students? by Paul Leighton, Corporate criminal liability and the imaginary social order, by Liisa Lahteenmaki & Anne Alvesalo-Kuusi and Shadow Boxing against the Crimes of the Powerful by Margaret Beare.
Attendance is free, but registration is required.