For two years, Hui Chen was the Justice Department's compliance counsel.
A company under investigation would come into the Fraud Section trying to convince federal prosecutors to decline a prosecution or enter into a deferred or non prosecution agreement – anything but a guilty plea.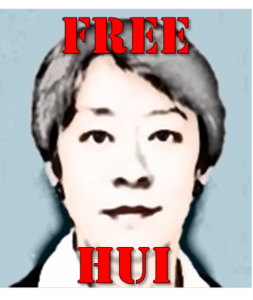 One of the factors in making that determination – strength of the company's compliance program.
That's where Hui Chen came in. She would be in the room with the prosecutors when the company was making its compliance presentation. Having worked in compliance at both Pfizer and Microsoft, Chen knew what questions to ask.
When the Trump administration came in, Chen's attitude toward her work started to change.
"Trying to hold companies to standards that our current administration is not living up to was creating a cognitive dissonance that I could not overcome," Chen wrote last week before leaving her position at the Justice Department. "To sit across the table from companies and question how committed they were to ethics and compliance felt not only hypocritical, but very much like shuffling the deck chairs on the Titanic."
"Even as I engaged in those questions and evaluations, on my mind were the numerous lawsuits pending against the President of the United States for everything from violations of the Constitution to conflict of interest, the ongoing investigations of potentially treasonous conducts, and the investigators and prosecutors fired for their pursuits of principles and facts. Those are conducts I would not tolerate seeing in a company, yet I worked under an administration that engaged in exactly that conduct. I wanted no more part in it."
"I have come to realize that nothing matters to me more than working to restore the notions of integrity, decency, and intellect back into our government," Chen wrote. "I yearn to be a part of that effort more directly than volunteering for and attending protests – I want to help elect candidates who stand for those values, and I cannot do that while under contract with the Criminal Division due to Hatch Act restrictions."
Was Hui Chen fired?
"In May, I expressed the intention not to renew my contract," Chen told Corporate Crime Reporter in an interview last week.  "The Fraud Section repeatedly asked me to stay through my contract period. The contract was to end September 17, 2017. I had agreed out of loyalty to the Fraud Section that I would do whatever I could to help. My timeline was moved ahead — probably because of my First Amendment activities. I say probably because it was never put to me that way. After repeatedly asking me to stay, one day I was suddenly asked if I would object if my last day was that Friday. On June 19, I was asked completely out of the blue whether I would object to moving up my departure date to June 23. Again, that was something I wanted. I had stayed purely out of loyalty to the Fraud Section. But the timeline was moved up."
Is the new administration going to replace you or just get rid of the position?
"We have yet to see. They have posted a consultant position and an employee position. Those postings have closed. And whether that would actually result in someone being in place — we need to wait and see."
Do you have a sense of whether they are going to replace you or close down the position?
"I do not have a sense."
What are your thoughts on what you are going to be doing?
"I want to make a difference through public speaking and writing. I wasn't able to do either when I was at the Justice Department. I also want to do training and consulting with compliance folks and company boards and senior leadership that want to do it right."
"That's a huge part of my mission. The other part of my mission, which I consider my personal mission, is to restore the sense of decency, intellect, fairness and transparency into our government. We need more candidates who represent those values in the executive branch and in Congress. A lot of my time will be working for those causes."
What is your platform going to be? Are you going to hook up with a law school or a non profit?
"I'm still exploring. For now, I'm perfectly happy being a free agent. It gives me a certain amount of freedom. I'm better able to maintain who I am. At this point, I have resisted attempts to recruit me into firms for any type of full time role. I don't want that. Some kind of non profit — I would be open to consider. Teaching, yes. But none of those will be full time."
You are ruling out being a compliance officer for a public company or working for one of the large corporate law firms?
"Correct."
Why is that?
"I'm also one of the compliance officers who has been bruised by some of my in-house experiences. One reason is that for either job, you have to be 100 percent committed to it. Whether you are building a compliance program or building a law practice, that's not something you can do while you are trying to do many other things you believe in. My mission is the greater compliance picture and I don't want to get distracted by something that is less than that."
"I want to remain focused on what I believe is my bigger mission."
Will you remain in Washington, D.C.?
"Not likely. I'm considering moving back to New York or to California. I haven't made a decision on that. Some of it will depend on what collaboration opportunities materialize. And where it makes the most sense for me to be."
When you say you want to remain a free agent — if you can find a platform fine, if not fine. Does that mean you are financially secure and you don't need to work?
"I need to have some income. I'm not so well to do that I can't work. But I do not need a huge or a steady paycheck. Money has never been something that drives me."
"When I left Pfizer, I didn't go from Pfizer straight to Standard Charter Bank. I left Pfizer to become a line cook in Italy. I worked ten to twelve hours a day standing on my feet."
Is that because you wanted to be a cook or because you wanted to be in Italy?
"It was both. I wanted to cook in Italy."
The Trump Justice Department's first two FCPA actions were declinations. Do see a continuing trend down the ladder from guilty pleas to declinations as a result of a political consideration?
"I have no reason to believe that. These cases have long gestation periods. Gestation periods for white collar cases are years in length."
Resolutions can come quickly. At the end of the Obama administration, there was this big dump of corporate crime cases in January. What is your explanation for that?
"There were a lot of cases in the pipeline. I would also point out that there was a new chief of the FCPA unit at that time who came into place about April of 2016."
Did your work as compliance counsel make a difference in judgments that were made in resolving the cases?
"I was most useful in how we probe the companies about their compliance programs. The outcome of that probe and how the various factors were weighed in resolving the case — that was not my domain. But as I sat in the room with the prosecutors and the companies, my job was to ask the kind of questions that most likely someone who hadn't been in-house and on the ground would not likely ask. Many of the prosecutors who spent a lot of time with me sitting in those compliance presentations have picked up my type of questioning. And many of them did see the value that I brought. When they wanted to be meeting with a company about compliance — whether before or after a resolution — or talking on the phone with a monitor — many of them insisted that I be in those meetings or on those calls. Not for the decision making that came at the end of it, but for the process."
"In terms of that process, I believe I made a difference."
What kind of questions?
"Almost all of those questions are captured in the evaluation and compliance program document that the Fraud Section released in February."
"I wanted to understand how controls work — from an employee's perspective. Companies typically like to come in and say — we have a policy that requires A ,B and C. I'm interested in how does it play out when an employee tries to engage in that transaction. How would they encounter that? How would they know that the company requires A, B and C? Walk me through the process. If I were to initiate this activity, what is the process?"
"Literally, I had companies say to me — now you are really getting to the nitty gritty. And my answer was — compliance is all about the nitty gritty. If you can't get the nitty gritty right, you are likely to foul up the big picture as well."
"That was one area. Another area is actual data. People like use the term — big data. And I say — data doesn't have to be big. Data is data. When companies come in and tell us they have a hotline and they show us the posters, I don't really care what your poster looks like. I want to know how many people use your hotline and how do you use your hotline to better your program."
"What is your evidence that your program is working? You probably haven't sat through compliance training. I have. And most of them bore me to tears. Most of them I couldn't even concentrate on as an employee. I take that experience and try to apply it to the corporation."
"You are telling me you have a 97 percent completion rate. But how do you know it's actually done anything? Has it changed behavior? Has it taught people about new policy? How do you know that worked? If you want to teach people how a new process works, the test is to see how many breaches of that process you have, not how many people completed that on line training."
False Claims Act attorneys tell us that almost universally, the whistleblowers they represent first go through corporate channels to try and get a resolution. And almost universally they are ignored or brushed aside, one way or another.
"I'm not surprised."
There must be better and worse corporate compliance programs and there must be corporate compliance officers where the officers feel comfortable working at the company.
"Last week I had lunch with a friend who is a compliance officer in a company. And we sat through lunch and talked about how work is challenging and there is this and that challenge. But he said, ultimately — I love my job. There are definitely good companies out there."
"On average, the companies I get to see sitting in the Fraud Section of the Justice Department are not likely to be representative of the best companies. If want to look for the next model citizen you don't go to the Criminal Division to look for them."
A CEO of a major company comes to you and says — we've been through a bad time. Give me the nutshell version of things I should do.
"I have to begin by understanding what was the cause of the bad time and where is your ethics and compliance program now. Did the CEO preside over that problem? Or are you a new CEO? That's where I would begin. The most important thing is determining whether the problem was an endemic, systemic, organizational culture problem? Or was it a severe infection in an otherwise sound program problem?"
"The answer is always — it depends. It depends on those factors, to begin with."
Anything you would like to add about your years at the Justice Department?
"I have nothing but the highest regard for the prosecutors in the Fraud Section. I do think it's important that the public and the press keep an eye on how the political appointees at the Justice Department are allocating resources to the Fraud Section."
"One of the ways they posted the position as an employee. It's worth asking whether the Fraud Section has received any exemption from the hiring freeze that has been in place. If there are not enough prosecutors to prosecute corporate crime, then what is a compliance counsel going to do?"
Is there an indication that they are planning on cutting back on the Fraud Section budget?
"This is all still in the works. That's why it's important that political appointees understand that people are watching them. You can see a number of departures from the Fraud Section in the last two or three months. These are all experienced, senior people. How are they replacing those people? Or are they replacing these people?
These are career people. And that is not unusual. People come and go regularly. I'm not implying that these are other than normal exits. But in the past you could see that the level of hiring was commensurate with the level of turnover. Is that still the case today? That is something the press and public need to keep an eye on."
Do you have a sense on the Trump administration and corporate crime?
"They have been clear that their priorities are drugs and guns. When it comes to corporate crime, they are talking about individuals instead of companies. The important thing is to watch where the Department is shifting the resources. Will they focus on securities and financial fraud and FCPA? Or will they focus more on drugs and guns? Let's focus on what they do rather than what they say. People say all kinds of things they don't mean."
[For the complete q/a format Interview with Hui Chen, see page 31 Corporate Crime Reporter 28(12), July 10, 2017, print edition only.]