The Financial Times is reporting that Justice Department staff have recommended that a settlement with Goldman Sachs over its role in the multibillion-dollar 1MDB corruption scandal should include a guilty plea at the parent company level.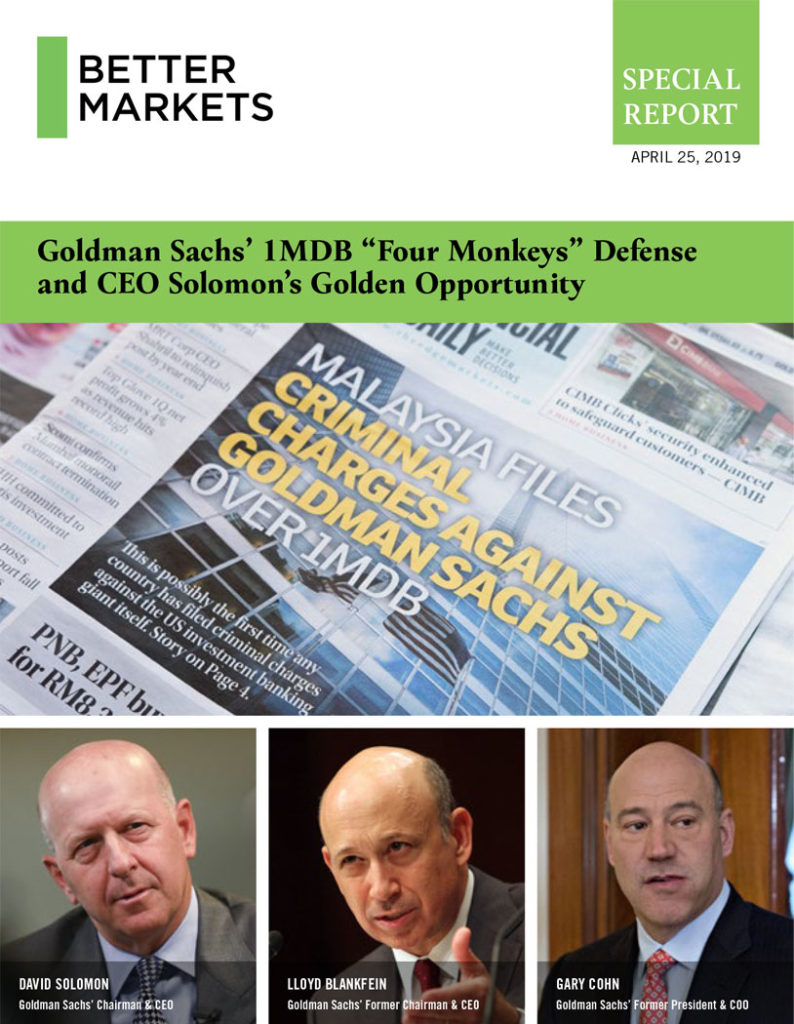 Goldman Sachs hired Kirkland & Ellis, the law firm formerly the home of Brian Benczkowski, the current head of the Criminal Division, and Attorney General William Barr.
The Financial Times reported that both Benczkowski and Barr received ethics waivers to allow them to participate in the Goldman Sachs case.
In the wake of the Financial Times report, Better Markets today issued a report "detailing the bank's extensive, multi-year 1MDB involvement and its baseless defenses, which merit the most serious sanctions possible."

"Without Goldman Sachs as its banker, underwriter, advisor and validator, there likely would not have been a 1MDB crime spree where possibly more than $10 billion was looted from the people of Malaysia," said Dennis Kelleher, President and CEO of Better Markets. "But, 1MDB is not just about stealing billions of dollars, a global money laundering scheme or a financial scandal; it's about the corruption and looting of an entire country by enabling an allegedly corrupt politician to get reelected for another five years, when he crushed his political opposition and at least one prosecutor was brutally murdered,"
"While most have focused on Goldman Sachs' pocketing about $600 million over just ten months for three 1MDB bond offerings totally $6.5 billion, too few have considered the bank's extensive involvement with 1MDB from 2009 through 2014 or Goldman's critical role in re-electing the allegedly corrupt prime minister. The report details these activities," Kelleher said.
"For example, the day after the $3 billion in proceeds from the third bond offering were deposited in a small private Swiss bank allegedly over the objections of Goldman's Singapore lawyers, hundreds of millions of dollars were diverted into accounts for the benefit of the then-Prime Minister who was in a very tough reelection race that was being rocked by allegations of corruption. Those funds were allegedly used as bribes to essentially steal the election just two months after the bond offering."
The Better Markets report also details "the many holes in Goldman's defenses, primarily that a couple of its partners went 'rogue' and secretly engaged in widespread criminal conduct."
"However, this would have required those 'rogues' to be criminal masterminds and geniuses who fooled all of the smartest, highest paid bankers in the world – all of Goldman's risk, compliance, legal and audit systems and controls; and all of Goldman's management."
"Given how implausible that is, the numerous red flags, internal Goldman dissent over the offerings, and the bank's extensive involvement with 1MDB, as described in the report, Goldman's 'four monkeys' defense of 'see no evil, hear no evil, speak no evil, and keep all the money' should be rejected," Kelleher stated.
"Goldman Sachs' actions here also raise the most fundamental issues of accountability relating to the double-standard applied to Wall Street's too-big-to-jail and too-big-to-fail financial giants, which use shareholders money to buy the wealthy and well-connected 'get-out-of-jail' free cards," Kelleher said. "In addition, these actions raise key questions about the wisdom of taxpayers bailing out Goldman and saving it from bankruptcy in 2008. That was supposedly to benefit Main Street because of the crucial role banks have in our economy, but that simply cannot include these types of activities, which benefited no one other than the Goldman financiers who received big bonuses."