As health and safety deregulation accelerates at the federal level, state and local prosecutors are beginning to bring criminal prosecutions against employers in worker death cases.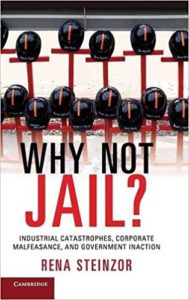 That's according to Rena Steinzor, a Professor of Law at the University of Maryland School of Law.
Steinzor is the author of Why Not Jail?: Industrial Catastrophes, Corporate Malfeasance, and Government Inaction.
"The Occupational Safety and Health Administration is barely able to inspect any respectable number of the eight million workplaces under its jurisdiction," Steinzor told Corporate Crime Reporter in an interview last week. "And scofflaws are prominent in many industries. Perhaps the most scofflaw industry is construction. Workers are dying routinely because the companies don't shore trenches. The trenches aren't shored, the walls collapse and the workers are smothered. Interestingly enough, that is an area where state and local prosecutors have begun to bring criminal cases. That's very encouraging. Only that will clean the company up."
When we started Corporate Crime Reporter more than 30 years ago, Ira Reiner, the District Attorney of Los Angeles, would investigate every workplace death as a criminal case. He wouldn't prosecute every case, but he would open a criminal investigation. And he did prosecute a number of those cases as reckless homicides.
Are you saying that since Trump became President you are seeing an increase in these local criminal prosecutions?
"Not since Trump, but over the last three or four years," Steinzor said. "In Los Angeles, they still have that wonderful program. But the Manhattan District Attorney, Cyrus Vance, has founded a task force of prosecutors and building inspectors from all the boroughs. The task force meets regularly. And Vance has brought some cutting edge prosecutions. As has the Brooklyn District Attorney."
"In Manhattan, Vance has brought cases over collapsed trenches. He has gotten the company convicted and also their managers. Those cases are still ongoing. He has brought such cases."
"Out in the state of Washington, there was an enclosed space death. A man working on a sewage line. There was a labor activist in that area who is retired. He managed to put enough pressure on the prosecutors that charges have been filed. That case was just charged a few weeks ago – for manslaughter."
You would expect that with this drive for deregulation in the worker safety area, you would see an increase in deaths. Are we seeing that?
"I have not done an empirical study where I could tell. It would be a difficult study to do. You would need an accounting mechanism to take into account what they were doing under President Obama. And President Obama didn't exactly cover himself in glory in this area. He didn't fight for more funding for OSHA, for example. He didn't let them pass some rules that were pretty important. Trump is worse than anybody of course. But this has been a slow and steady decline in regulation for several years that is probably related to the weakening of organized labor."
As a reporter, I would go to the OSHA web site and search for worker death cases. And there would be a handful every year with minimal fines. But I'm seeing fewer of them – none this year so far.
"I don't think they are doing much of any enforcement. They have always been pretty bad. They never took seriously the criminal prosecution part of it. They would refer only two or three cases a year to the Justice Department."
"In their defense, I will say that the criminal penalties are a scandal. They are so weak. If you kill someone through gross negligence on the job, the most you face is six months and a $70,000 penalty. When the pendulum swings back, I'm hoping we can strengthen all of the statutes."
How did you become interested in the field of corporate crime?
"The regulatory system is under such attack and is so underfunded that I began to consider the radical alternative that only criminal prosecution could get through to some of the worst behaved companies. And that lead to writing the book and my interests in criminal prosecutions."
If there was a strong, robust regulatory system, would you feel the same way?
"I have such difficulty imagining that. We have never had one – let's put it that way. We have never had a system that is aggressive enough to inspire corporate compliance."
"The system has been fading, especially in the most vulnerable areas for probably the last twenty years. The most distressing areas are in the worker safety and health area."
What is your next book?
"I'm planning a book on how Trump voters are being betrayed by his war on regulation," Steinzor said.
Do you have a working title?
"The Betrayal. That's very much a working title. It's going to talk about Ayn Rand."
How does Ayn Rand fit in?
"The virtue of selfishness. We have no empathy. People in charge believe that there are producers in society and to them should go all of the riches. We don't have any empathy for people whose kids are drinking lead laced drinking water, or workplaces where we don't shore trenches, or dirty air in the inner city. That's the one percent."
[For the complete q/a format Interview with Rena Steinzor, see 32 Corporate Crime Reporter 10 (13), print edition only.]