Steve Canterbury knows where the bodies are buried at the West Virginia Supreme Court.
He was administrative director of the court from 2005 to 2017, when he was fired.
He also knows all about the $32,000 couch in the newly remodeled office of Chief Justice Allen Loughry.
Before joining the court, Loughry authored a history of corruption in West Virginia titled – Don't Buy Another Vote, I Won't Pay for a Landslide: The Sordid And Continuing History of Political Corruption in West Virginia (2006).
Couchgate burst into public view last November when reporter Kennie Bass of WCHS-TV in Charleston ran an investigative report about a couch in Loughry's Supreme Court office that cost $32,000.
And a $7,500 wooden map of the state of West Virginia cut into Loughry's office floor – with each county made out of a different piece of wood and with Loughry's home county – Tucker County – made out of blue granite.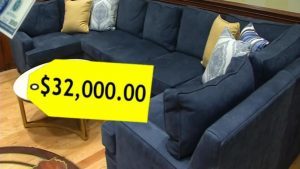 Loughry blames Canterbury for the extravagant spending.
But Canterbury says it was Loughry who insisted on the extravagance – including the blue suede couch.
Now, a couple of Democratic members of the West Virginia House of Delegates are talking impeachment.
And the $32,000 couch has had a deep imprint in West Virginia. One circuit court judge, up for re-election, was asked on Talk Radio WRNR whether she has a couch in her office. She said she didn't.
Why were you fired?
"They don't give a reason," Canterbury told Corporate Crime Reporter in an interview last week. "But essentially, Justice Loughry didn't care for me. He didn't like the cut of my jib."
"For the first year and a half we seemed to get along well. But then one day, he was very upset about something he had heard. I have never been clear about exactly what he heard. But he claimed that he heard that I had essentially insulted him by saying he was young and he would learn more about drug courts of all things. He was insulted and he thought I should resign on the spot. I didn't know what he was talking about. I didn't know who he heard that from."
"I know that Justice Menis Ketchum frequently referred to him as 'the boy judge.'"
How did the couch come to cost $32,000?
"Loughry wanted a couch that would fit in this notch in his office," Canterbury told Corporate Crime Reporter in an interview last week. "His office has a little L shape to it. He wanted it to fit in that notch. The woman in charge of facilities and who was the project manager, she found a large sectional – but it wasn't quite big enough. That section was something like $3,500."
"But Loughry wanted it to go all the way to the corner. And he was very insistent. He wanted it to go to the corner. She gets in touch with the manufacturer. I don't even know who that was. They said – sure they could make a special one, but it was going to add significant costs. That took it to $8,000 or something like that."
How much bigger did they have to make it?
"Not that much bigger – several inches. I didn't think it was worth doing, but he was insistent."
"Then he and his family and secretary decided to pick the fabric. The major costs were in the fabric. He decided he wanted it to be in suede."
"I'm not going to pretend to know tons about how furniture is designed. But I do know this – I do know that suede doesn't come in rolls, it comes in hides."
"When they design for hides, they design the cushions so that they can use every scrap in one hide. They design it at the right size. This couch was not designed for leather. For him to use hides made the costs go up extremely."
It's not just suede, it's blue suede.
"Yes. It's a blue suede. It was very expensive fabric. That is what sent the price up. He had expensive furniture, but I was just processing it through. When I saw that one I said — I better take this one up to him. I don't think he quite gets that this is quite expensive."
"He was at the construction site of his office. He was there a lot. A lot. At least a couple, three times a day, every day. I asked him to come out into the hall. And I said – I just wanted to make sure you understand this is $32,000. And he looked at me and said – if it ever comes out and if anybody gets upset I'll just say – you are the administrator, it's on you. And then he laughed."
"I know him well enough and that wasn't a happy laugh. It was a – subject closed laugh. And I thought – okay. I said all right then. I guess we'll sign off on it. And he said – he just nodded. And that was the whole conversation."
"I didn't put it in writing. I hindsight, I should have at least emailed him about it."
"Recently, Kennie Bass has filed a FOIA for all of their emails about construction. I don't know what is still extant. But if the ones I recall are still extant, then it's going to put a lie to what Loughry said about his not being part of the construction. He essentially said on television that he didn't pay that much attention to the details, that he was surprised by the map on the floor."
Loughry basically put the blame on you. There was a wooden map of West Virginia. Each of the counties is made from a different kind of wood. His home county – Tucker County – is made out of blue granite.
"He did ask me to take some time to use the available wood at the place out in Wisconsin that did this – to make sure that no two adjacent counties had the same wood – you wanted to be able to tell the counties apart. That was kind of difficult. We had counties that border six other counties. I finally figured out how to do it."
"That pearl blue granite for his home county –  Tucker County – that was also what he decided to put on his bathroom floor – that also was expensive. That little space –  and that bathroom floor is tiny — that was about $1500 just for the granite for the floor. He had expensive tastes – as long as somebody else is paying for it. I did the best I could to follow what he wanted. A lot of this was not directed to me – it was with the project manager. She would bring it to me, and I would say – if that's what the Justice wants, we will do the best to take care of it."
Now there is a move in the legislature to impeach Loughry. What is your take on the impeachment?
"On the expenditures, I don't know that there is anything illegal. It showed bad judgment. He was a like a kid in the candy store. He couldn't get enough of himself after he got elected."
"I worked on a lot of campaigns. I've seen two kinds of reactions to getting elected. It always falls in one or the other camps. The first people are good people. They run for the right reasons. They are overwhelmed with the responsibility and they are truly in awe of what they are facing. There is a humility to the core."
"Then there are others who feel like – I have arrived and people ought to get out of the way. Their egos know no bounds. Loughry fell in the latter camp."
"I remember on about the third day there was a person who had worked with him for a long time as a law clerk. The person called him Allen. And Loughry stopped him right there and said — you are not going to call me that anymore. I am Justice Loughry."
"I thought – wow. That's how he was."
"As far as impeachable offenses – the desk that he took home – that strikes me as an outrage."
What was that about?
"He had inherited an office that had some furniture in it. It had to be taken out so that his office could be remodeled. There was a leather couch. And he said to me – this couch, I think I should have this in my home office at my house. No one had ever said that to me."
He could take state owned furniture to his house?
"It was a first, let's put it that way. I said what, what, what, what? That was my instant reaction. But I said – I guess we can arrange that. He said he would take care taking it to his house. He said he was going to do it on the weekend when there was no one who would have their work disturbed. He said he would do it then."
"Then the story broke that he took one of the Cass Gilbert desks to his home. Cass Gilbert did not design these desks, but they were selected by his architecture firm when the building was designed and built. They are original to the building. They are magnificent desks made out of walnut. I don't know if you can get this kind of walnut anymore — it's almost like bird's eye maple. It's got this amazing pattern to the wood."
"Some of those desks have disappeared. Apparently, there were originally seven – five for the justices, one for the clerk and one for the law library – apparently each had one. Now there are four. At one point about two or three years ago, we couldn't locate the fourth one. I was livid about why we had misplaced the fourth desk. I didn't know what had happened. What had happened was he had taken it to his house."
Did he ever mention it to you?
"No. He never mentioned taking the desk home. He talked to me about the sofa that had been in the office before he had arrived. It was a nice leather sofa. It was a perfectly nice sofa. Probably retails for several thousand dollars. And he said he could have that in his home office. I didn't know about his taking the desk. I would have never said okay to that. I would have said – Justice Loughry – this is a historical icon. I think we should take this to the other members of the court and see how they feel about the desk. I should have said that about the sofa going to his home."
How did you find out that he took the desk home?
"I read about it in the paper like everyone else did."
Last November the Charleston Gazette reported that he had it moved back to the Supreme Court.
"I heard stories that when they were moving the couch into his home, one of the people moving the couch saw the desk and said something about it — that was a desk like the ones at the court. But I don't know if that is true."
"That's kind of outrageous that he took the desk. Maybe he was always going to return it. I guess that's his story."
Is West Virginia more corrupt than other states?
"You look at a state like Illinois and they have so many governors who have gone to prison. New York has had a feeding frenzy recently for their legislators and other public servants. I don't know if we are more corrupt. There is a clumsiness to a lot of the corruption in West Virginia. There is so much risk for so little gain."
This could be nothing more than a lawyer who is just full of himself?
"He was full of himself. He showed bad judgment. There was an excess to what he did. But then there was the taking of the desk. Nobody knew about that. Just because you gave it back doesn't mean you didn't take it in the first place."
[For the complete q/a format Interview with Steve Canterbury, see 32 Corporate Crime Reporter 4(11), Monday January 29, 2018, print edition only.]