Sacha Harber-Kelly will join Gibson Dunn as a partner in the London office.  Harber-Kelly is currently a prosecutor with the U.K.'s Serious Fraud Office (SFO), in the Anti-Corruption and Bribery Division.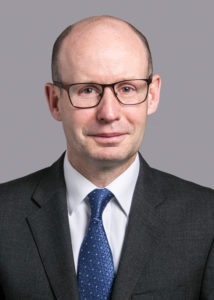 At Gibson Dunn, he will focus on disputes, white collar crime and international and multi-jurisdictional investigations, compliance and enforcement matters.
"We are pleased to welcome Sacha to the firm," said Ken Doran, chairman of Gibson Dunn.  "After a successful career as a partner in a white collar defense firm, Sacha spent the past 10 years handling some of the largest and most complex cases that the SFO has ever brought and is well-respected by the U.K. white collar bar.  Given the rise in prominence of the SFO and the number of cross border investigations that we routinely handle, Sacha's experience, insight and technical expertise will be of great value to our clients."
"Sacha has real and deep experience serving as a front-line prosecutor responsible for the day-to-day running of such significant matters at the SFO," said partner Philip Rocher, who leads the Disputes practice in Gibson Dunn's London office.  "His achievements at SFO are impressive, and in a number of respects ground-breaking.  He is acknowledged in the market as having been centrally involved in the U.K.'s development of a deferred prosecution agreement  regime, which has resulted in a step-change in U.K. anti-corruption and white collar enforcement, and he played a leading role in two of the major resolutions under this new regime.  Sacha's addition will underline to the London and international market our focus on meeting the demands of the evolving white collar enforcement environment."
Harber-Kelly joined the SFO in 2007.
During his tenure at the SFO, Harber-Kelly has taken cases to trial, used civil asset recovery powers and entered into DPAs to resolve individual or corporate liability.
He has been involved in each of the UK's simultaneous global corporate enforcements to date, prosecuted the first contested case of overseas corruption, and deployed on behalf of the SFO the use of a co-operating offender for the first time.
Harber-Kelly was the SFO representative in the UK Government's Working Group that designed the DPA system applicable in England and Wales and was responsible for the drafting of the DPA Code of Practice and went on to handle the SFO's first DPA in 2015.
He also has extensive experience working with the U.S. Department of Justice and Securities Exchange Commission in parallel U.S. and U.K. investigations.