Christopher Wray, President Trump's nominee to be the next director of the Federal Bureau of Investigation, is firmly embedded in the corporate crime bar.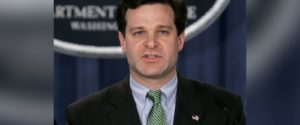 And his fellow members of the bar are coming out of the woodwork to praise him.
"Chris Wray is a superb and serious lawyer with a strong moral compass," said Leslie Caldwell, head of the Justice Department's Criminal Division under President Obama. "Having served under Chris when I was Director of the Enron Task Force, I witnessed first-hand his deep respect for the Department of Justice and the FBI, as well as his strong commitment to public service.  The country is lucky to have someone of Chris's caliber serve in such an important role."
"Chris is super smart, a great lawyer and highly experienced," said Larry Thompson, former Deputy Attorney General under President Bush. "He will serve the Department of Justice and Federal Bureau of Investigation well.  I worked with Chris for a number of years and always had complete confidence in him.  He simply doesn't make mistakes. We are lucky he decided to reenter public service."
And Mary Jo White, former chair of the Securities and Exchange Commission, said Wray is "a great choice for FBI Director."
"He is smart, independent and has a very impressive track record of service and experience in the Department of Justice where he worked closely with the FBI and was widely regarded as a strong leader. Chris's expertise covers a vast array of critical areas he will be dealing with, ranging from terrorism to white collar crime to cyberattacks.  The country would be very fortunate to have someone of Chris's integrity and abilities leading the Bureau."
Wray himself was head of the Criminal Division under President Bush and was for years a partner at King & Spalding in Washington, D.C.
In a 2006 interview with Corporate Crime Reporter, Wray defended his former boss Larry Thompson, whose now famous memo led to a slew of corporate settlements with deferred and non prosecution agreements.
At the time, it was rare to find a corporate crime defense lawyer publically defending the way the system has worked post-Thompson memo and Holder memo.
But Wray was present at the creation.
He was an assistant U.S. Attorney in Atlanta when he was called up by Larry Thompson to join Main Justice in 2001.
There, Wray helped Thompson draft the now famous memo –  formally known as the Justice Department Memo on Federal Criminal Prosecution of Business Organizations.
In a lengthy article in the American Criminal Law Review, Wray said that much of the rhetoric against the Justice Department's crackdown on corporate crime has been "overwrought" and that the Thompson memo "has accomplished its objectives."
But he went on to warn that "the risks and tensions that the memo fosters are real, and a healthy measure of caution in the memo's application is well warranted."
In the 2006 interview with Corporate Crime Reporter, Wray said that the Thompson memo had "done a lot of good" and was "fundamentally sound."
"On the other hand, with any kind of effort to capture guidance in a single document, there is always the risk that guidance can be misunderstood or misapplied," Wray said. "This risk makes it very important for prosecutors to apply the memo carefully and thoughtfully."
Wray was asked, given the rise of deferred and non prosecution agreements post-Thompson memo, wasn't it unusual for any major American corporation to be convicted of a crime?
Wray says that "the government has not for a minute abandoned the idea of using criminal charges against corporate entities."
But there are "tremendous opportunities for a company to avoid the nuclear weapon of criminal conviction and the collateral consequences that follow," he said.
While much had been made of the rise of deferred and on prosecution agreements post-Thompson memo, an even better option for companies was to get the government to close the investigation without any action.
And Wray said that the number of outright declinations were a "significant" – if underreported – outcome in corporate crime investigations.
Wray was asked — how many declinations are there?
Wray couldn't say..
"I'm not aware of any systematic, airtight way to capture all declinations," Wray said. "Sometimes, with criminal declinations, there is no formal or explicit decision – in effect, no period at the end of the sentence and more like an ellipsis instead."
"Consider a company that is grappling with a criminal investigation," Wray said. "The company's status is a little murky. Over time, the government just moves away. Maybe the investigation never really goes anywhere and just trickles off, or maybe the government focuses solely on the individuals involved and never ends up coming after the company. Some would consider these situations declinations, even though the relevant U.S. Attorney's Office or Main Justice never made an explicit statement that the government had declined to bring charges against the company."
Isn't that situation unfair to the company?
"Sometimes, no news is good news," Wray said.
"And most companies, just like most individuals in such circumstances, would much rather have a letter, a phone call or some other clear indication that the government has decided not to prosecute," Wray said. "But having said that, most companies would still rather hear nothing from the government than hear bad news."
And even if there is a formal non-prosecution agreement, there's a chance the agreement won't see the light of day.
"Although they are very similar to deferred prosecution agreements in some ways, there is no automatic mechanism by which they become public because they lack the formality of a filed charging instrument," Wray said. "They usually are, but I can imagine situations where that might not be the case. Those would be unusual, but these less formal agreements between the company and the government are not presumptively public."
[For the complete q/a format Interview with Christopher Wray, see 20 Corporate Crime Reporter 31, July 31, 2006, print edition only.]