When it comes to Foreign Corrupt Practices Act (FCPA) cases, increasingly we are seeing the Securities and Exchange Commission (SEC) go it alone.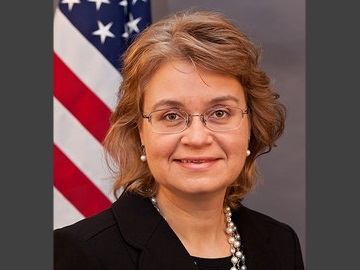 Why?
Kara Brockmeyer is the former chief of the SEC's FCPA enforcement unit.
She is now a partner at Debevoise & Plimpton in Washington, D.C.
Are you noticing since you left the SEC a shift to the Justice Department not joining the SEC as much on FCPA cases?
"When you are at the government for a long period of time, you see the pendulum swing back and forth," Brockmeyer told Corporate Crime Reporter in an interview last week. "Yes, we are in a period, particularly in the FCPA area, where we saw the Department of Justice step away from a number of cases that were SEC only FCPA enforcement actions. There was a period of time where the Department was on every case that the SEC brought in the FCPA area. Now, the Department seems to be picking their battles on where they want to expend their resources."
Under this administration, how has SEC FCPA enforcement changed?
"It has not changed as much as people thought. They have still continued to be quite active and aggressive in bringing FCPA cases. Last year may have been the second highest year ever for number of actions brought. They have also been willing on occasion to be more aggressive on the theories they are bringing the cases under. It's not just the number of cases, but they really haven't hit the brakes on more aggressive enforcement theories. One of the things that has probably changed the most in the last three to five years is the amount of international coordination. FCPA is no longer a U.S. issue. Anti-bribery and anti-corruption has become an international issue."
What other changes are you seeing in FCPA enforcement since you left the SEC?
"One of the things we are watching is whether the Department of Justice steps away from cases that are being investigated and enforced overseas against overseas companies. About a year or so ago, the Justice Department put out what is known as the anti piling on policy. Under the policy, the Department of Justice is supposed to consider enforcement actions, criminal and also civil, being brought by other regulators and also globally. We will see if they step away from some cases that we would otherwise, in prior periods, have expected them to be in on."
Have there been such cases where the Department has backed away?
"There were a couple cases brought by European authorities where the U.S. enforcement agencies were not present, even though there could have potentially been a hook. At some point, the company was a listed company in the United States. This is an area that we are going to continue to watch. Often, it takes a bit of time to see how the enforcement authorities are going to make changes. You have cases in the pipeline that have come up under the old policies that need to be cleared out."
What percentage of FCPA cases are triggered by corporate disclosures?
"I don't know what the current stats are because I'm no longer in a position to see the self-reports. When I was at the SEC, on average it was somewhere between 25 percent to 30 percent of the cases that came from self-reporting."
Do you have a sense as to what percentage of FCPA cases are triggered by whistleblowers under the Dodd Frank bounty program?
"When I was at the SEC, it was somewhere around 25 percent to 30 percent. It stayed pretty consistent over the last few years I was there. We will have to see. One of the things everyone in the defense bar is watching is the impact of the Supreme Court's decision in Digital Realty Trust. It came down in February 2018. That decision said that whistleblowers are not protected by the anti-retaliation provisions of Dodd-Frank unless they report to the SEC. It's not sufficient that they report internally. That decision has the potential to change the calculus for some whistleblowers who might have thought about just reporting internally first."
There are so few FCPA cases brought every year. But it still dominates the corporate crime enforcement landscape. Why is that?
"It is a small number of cases. But they tend to have large dollar amounts. They often tend to involve big, well known multinational companies. If you look at the cases brought in any year against big, well known multinational companies, the FCPA area is where the play is."
At any one time, how many FCPA cases is the SEC looking at?
"I certainly don't have any visibility into that now. What I can say is that when I was there on average, it would be somewhere between 120 to 130 open investigations at any one time."
How many were being brought every year?
"When I was there, our numbers ranged between ten and fifteen every year. The year before I left, there were 26 cases brought."
What happened to all of the rest of the cases?
"It can take anywhere between three and five years to investigate an FCPA case and bring it through to conclusion. Some cases take longer. If you are bringing somewhere between 20 and 25 cases a year, you are closing out 20 to 25 percent of your inventory by bringing those cases."
"There are going to be some cases that are going to close. The SEC decides that the evidence isn't there or that the litigation risk is too high. And those cases close at different stages. There may be some cases that are open preliminarily to look at an allegation made by a whistleblower. The SEC staff may kick the tires on that, go out to the company to get some information. Sometimes whistleblower complaints bear out. And sometimes they don't. So those cases can be closed very quickly.
There may be other cases that are investigated for a while and at the end of the day it is decided not to bring the case. Those are probably rare. The SEC does not have anything like the public declinations now being used at the Department of Justice – the declinations with disgorgement. When the SEC decides to close a case, a letter is sent to the company telling the company that the case has been closed without action. The declinations are not public, unless the company discloses them. If a company has disclosed that it is under investigation, they will typically then disclose that the SEC has not taken any action."
Are you noticing at the Justice Department a move toward more straight out declinations?
"We are definitely noticing that the Department of Justice is not there on all of the FCPA cases being brought by the SEC. Typically that means there is a declination. But I can't say that is tied to the new administration. A number of years ago, that was the policy of the Justice Department – they wouldn't bring a case if they couldn't bring an anti-bribery charge."
"If you go back and look from 2009, 2010, the modern age of FCPA enforcement, post Siemens and Daimler and Halliburton and those big cases, there was a period of time when in a given year there might have been one or two cases where both the SEC and the Department of Justice were together on a case."
[For the complete q/a format Interview with Kara Brockmeyer, see 33 Corporate Crime Reporter 18(12), Monday May 6, 2019, print edition only.]