Fried Frank partner Evan Barr is a former federal prosecutor who now represents corporations and executives in corporate crime cases.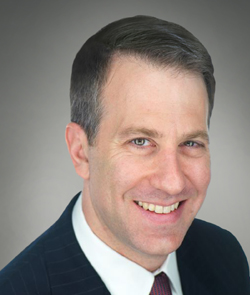 But representing executives is the bread and butter of his practice.
"My practice leans more toward individual representation," Barr told Corporate Crime Reporter in an interview last week. "These are typically employees, officers of large banks or public companies where they are fully indemnified. That is the bread and butter of my practice. I'm not sure of the exact breakdown. But less often I'm representing the company."
There is a public debate about the Justice Department's policy on charging individuals in corporate cases. Some argue the Yates memo didn't really make a difference, that the Justice Department has always emphasized individual prosecutions.
"I did not see any sort of dramatic change in the mix of targets," Barr said. "Aggressive prosecutors that I'm used to dealing with have always been interested in making cases against individuals wherever. It is obviously easier to reach a resolution with a company. Those cases never go to trial. It's a settlement. It's a negotiation over what's the right dollar amount. In some ways, those are ground balls for federal prosecutors. And they are happy to do them."
"Where the evidence is available, the prosecutors I've dealt with have always been interested in going after individuals, pre or post Yates memo. I never saw a difference. That could be in part that I'm dealing with the prosecutors out of the Southern District of New York, who have always been aggressive. Some people tell me that the memo had more impact in offices in other parts of the country where that was not necessarily the culture. But I didn't see a difference."
Do you go to trial often?
"I wish. Even with respect to individuals, trials are still few and far between. That's one unfortunate consequence of leaving government service – not getting down to the courthouse as often as I would like."
You are primarily before the Southern District?
"Right now, I'm primarily in front of Main Justice. I have cases with the Antitrust Division, with the Fraud Section. But normally, most of my practice is coming out of the Southern District."
I sense that lawyers representing individuals in corporate cases feel ganged up upon – that the companies and the corporate lawyers are teaming up against the lawyers for the individual corporate executives.
"In general, I've had very good relationships with lawyers representing companies that have employed my clients. It's generally a very productive relationship. There is to some extent an alignment of interests. In many of these cases, both the company and the individuals believe no crime was committed. And the ultimate result that is best for everyone is the termination of the investigation. While that spirit is in play, there is a lot of cooperation. I have for the most part received helpful guidance, documents, information from the company."
"There comes a time when there can be a divergence. That usually happens when prosecutors are pressing the company for resolution. At that point the company is compelled, often reluctantly, to part ways with the employees. That takes different forms, including termination and sometimes cutting off indemnification — although I find that to be a rare occurrence. Most companies that I've dealt with are willing to cover fees even after a client has been not only let go, but charged in a criminal case. And there is not necessarily a legal obligation to do so. I've been encouraged by that."
"But there does come a point where counsel for the company has to make certain decisions. They obviously have their job to do in terms of compiling an internal investigation, often waiving attorney client privilege and turning over the results of that investigation. We understand they have to do that in order to get a favorable resolution. I don't hold it against them. Generally, even while that is happening, we still have a productive relationship with the company."
How does the subject matter of your case load break down — antitrust, insider trading, fraud?
"It varies depending on when you ask me the question. Right now, more than fifty percent of my work is criminal antitrust. I have a case coming out of the bond markets. I have a case involving generic pharmaceuticals. I have a case involving the maritime shipping industry."
"I've had some cases recently involving potential immigration related charges, trade sanction matters."
Are the antitrust defendants primarily foreign?
"That's an interesting point. Some of them are. And certainly the international cartel cases are a high priority. I have one client, and this is a public case, who is the subject of an indictment. He's Swedish. There is a lot of international enforcement activity by the Antitrust Division."
How come there are so many more individual antitrust cases than say bank fraud cases?
"Prosecutors faced difficulties in the wake of the post 2008 crash in proving criminal intent on behalf of large banks that had proliferated mortgage backed securities. People perceived the lack of charges coming out of that matter reflecting a lack of aggressiveness."
"I never viewed it that way. I always thought that proving criminal intent with respect to mortgage backed securities was always going to be difficult. By contrast, when the Department brings a criminal antitrust case, they often have evidence either in an email form or a tape recorded form of alleged agreements between competitors. The evidence that the Department relies upon is usually found in chat rooms, emails or tape recordings. It is easier for them to show agreements among competitors than it is to prove criminal intent underlying the creation of the housing bubble."
[For the complete q/a format Interview with Evan Barr, see 33 Corporate Crime Reporter 19(12), Monday May 13, 2019, print edition only.]