Dechert partner Andrew Boutros has prosecuted corporate crime. He teaches a class on corporate prosecutions and investigations at the University of Chicago Law School. He writes about it. And now at Dechert, he has an active corporate criminal defense practice.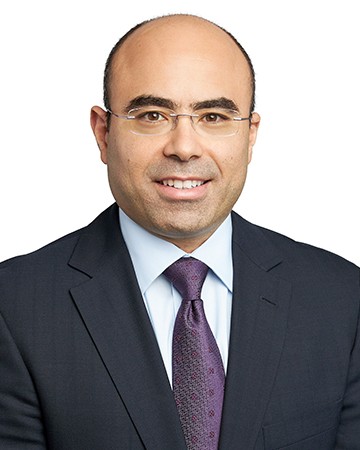 "Writing, speaking, and teaching are all ways of giving back," Boutros told Corporate Crime Reporter in an interview last week. "They are ways of sharing knowledge and insights with others and helping others – whether clients, other practitioners, or students – to work through issues. Engaging in these activities also enables me to stay abreast of current developments in the white collar area and to apply the most recent developments to my daily practice."
You have been teaching a course in corporate crime at the University of Chicago Law School. Is it your sense that there are not that many such courses being taught at law schools across the country?
"There are not that many. When I was a law student, there were no such offerings at the University of Virginia and I don't think UVA was unique in that regard. It was something early on I decided I wanted to get involved with. I don't use a casebook. Instead, each year I put together a compilation of materials – law review articles, foundational cases, law firm client alerts. I try to present a balanced perspective – the government, the defense and in house counsel."
"Year in and year out, it's not unusual to have the course oversubscribed. I will get an email from the registrar asking if I would consider increasing the enrollment. At the University of Chicago there are students from around the world in the LLM degree program. We've had students from Japan, Germany, Mexico, Ecuador, France, South Korea –  all over the world. These tend to be older students who offer some real life perspective as well. They provide interesting color and commentary about how things happen in their countries. And it allows us to do a very organic comparative analysis of the U.S. system versus other systems."
"It wasn't very long ago that for example in Germany, bribes were a tax deductible event. We talk about how cases were handled twenty years ago in Germany compared to how cases are being investigated by Germany in a Siemens type action. It allows for a wonderful organic discussion."
"There is a lot of reading in my class. But I tell the students on the first day of class – if you read all of the materials, participate and you are active, I can assure you that you will walk out of this class with the knowledge base of a third or fourth year associate at a law firm. That's how much you are going to get in terms of knowledge, information and practice tips in terms of how things are done."
"I have been teaching long enough now that several former students have come back to me now when I have run into them and I ask them – did I deliver on what I told them? And uniformly, the answer has been yes."
Do the students look at corporate criminal law as a possible career path? And if so, is it to become a prosecutor or defense attorney or plaintiffs' attorney?
"Students are increasingly sophisticated –  maybe more sophisticated than I was or than my peers were a generation ago. They will walk into class and tell me – I want to be a federal prosecutor. I say – that's great, be open minded. Maybe you don't. Maybe you do. Why do you want to be a prosecutor? And I will probe a little bit. But there are students who have their careers planned out ten to fifteen years in advance. While it's important to have goals, you don't want to have tunnel vision so that you miss out on other potentially wonderful opportunities, whatever they may be. You may think you want something, but you really don't."
"Be open minded to wonderful opportunities that come along that could potentially move you in a different direction. But I do see students increasingly wanting to become federal prosecutors and they are taking the class for that reason. There are many students who are going to do the white collar work in a large law firm and then become a prosecutor."
"I think that the years I spent at Gibson Dunn made me a better prosecutor because I was able to bring with me the defense perspective and it allowed me to see a lot of grey. As we go through life, there are things that are black and white. But there are a lot of things that are grey. It allows you to call out people on nonsense that you know is just not true. My days at Gibson helped me to become a better prosecutor, to listen and treat defendants and individuals fairly."
"You are also going to see a larger percentage of students who become prosecutors eventually leave the government to go in house to corporate legal departments. It's another pool of opportunities that didn't previously exist in the same way as today that people will take advantage of as well."
When you started practice, major corporate crime cases ended up guilty pleas. Now the practice has shifted dramatically to deferred and non prosecution agreements for major corporations. Aren't we sacrificing deterrence and punishment?
"The question you ask is the question we debate in the classroom. It boils down to the question of punishment versus compliance."
"If we want to insist that punishment is king, the company should plead guilty, they should have that scarlet letter hung around them. There should be more guilty pleas. If the desire is much more one of compliance, then there needs to be some punishment. You can't just walk away. But the goal is to make companies more compliance oriented, not necessarily to put them out of business and to potentially impact innocent shareholders and other stakeholders. If compliance is the goal, you are going to see more deferred and non prosecution agreements."
"The danger is – you don't want to create a system where corporations see a system where if they get caught in criminal activity, they can buy their way out. There isn't enough deterrent effect –  and the company says – if we get caught, we will undertake these various steps. It will all be okay."
"There still needs to be a sufficient hammer that will discourage companies from engaging in the misconduct to begin with. You don't want to lose the hammer and have companies perceive the criminal justice system as merely regulatory. We don't want to water down what it means for a company to be criminally prosecuted."
"But we also need to recognize the collateral effects of the criminal justice system. You cannot at the end of the day put a company in prison. There is a tremendous impact of a public company pleading guilty, especially if you are in a regulated industry, banking industry, government contractor, healthcare business and the like, where it can shut off your ability to operate."
In your class, you must discuss the two tier system of justice – one for the powerful corporations and one for everyone else. And the thing that brings it to mind is the presumption of declination under FCPA program. I don't think there is the equivalent of presumption of declination for street crimes.
"We do talk about it in class – are white collar criminals treated differently from street criminals? I tell my students that a bank robber will take maybe tens of thousands of dollars from the bank, but if caught go to prison for a decade or more. White collar criminals can cause losses of tens or hundreds of millions of dollars and still not get that kind of sentence."
"To be sure, bank robberies can result in death and trauma. I viewed my role as a federal criminal prosecutor to not just go after the low hanging fruit, but to also go after high ranking individuals in corporate and government settings to send the message that the job of the federal prosecutor is to bring not just the easy cases, but the tough cases."
"All that being said, these cases are complicated. They are tough. Look at the financial crisis and the few prosecutions that came from that. It was such a diffused kind of crime, if any kind of crime at all was committed. There are evidentiary and other policy reasons that would make the government want to handle cases through a different track."
What made you want to become a lawyer?
"I decided I didn't want to be a doctor. If you look at my education, I graduated in the hard sciences, summa cum laude, number one in my department with a biology degree from Virginia Tech. I was very much looking to go into medicine. I was on my way into medicine. And I had cold feet about whether or not this was something I wanted to do for the rest of my career, although it was something I excelled at."
"I reached a compromise with my parents. I would take a year between college and either law school or medical school and try out the law. I ended up at Wilmer Cutler Pickering – before it became Wilmer Hale. I was there for a year off. I had a very good experience. I took the LSATs and did very well. And I decided that I was going to go into the law."
You come from a family of doctors?
"Yes, a family of doctors."
You had to buck the family trend?
"Yes, although my parents were not necessarily opposed to it. They wanted to make sure that it was a thoughtful decision and something I really wanted to do. There was no pushback to the profession itself."
[For the complete q/a format Interview with Andrew Boutros, see 33 Corporate Crime Reporter 37(12), Monday September 30, 2019, print edition only.]