Flying under the radar of policymakers, big gambling corporations are now targeting kids and vulnerable demographic groups with algorithms promoting gambling addiction.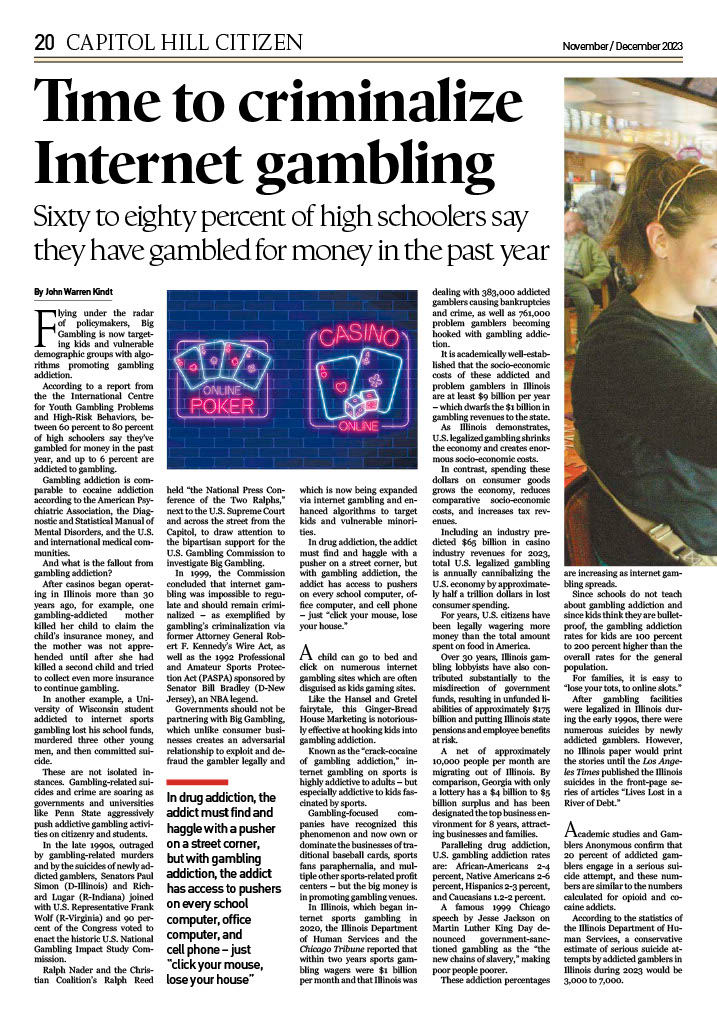 According to a report from the the International Centre for Youth Gambling Problems and High-Risk Behaviors, between 60 percent to 80 percent of high schoolers say they've gambled for money in the past year, and up to 6 percent are addicted to gambling.
Gambling addiction is comparable to cocaine addiction according to the American Psychiatric Association, the Diagnostic and Statistical Manual of Mental Disorders, and the U.S. and international medical communities.
That's according to an article in the current issue of the Capitol Hill Citizen (November/December 2023 capitolhillcitizen.com) by University of Illinois Professor John Kindt titled Time to Criminalize Internet Gambling.
And what is the fallout from gambling addiction?
"After casinos began operating in Illinois more than 30 years ago, for example, one gambling-addicted mother killed her child to claim the child's insurance money, and the mother was not apprehended until after she had killed a second child and tried to collect even more insurance to continue gambling," Kindt writes. "In another example, a University of Wisconsin student addicted to internet sports gambling lost his school funds, murdered three other young men, and then committed suicide."
And Kindt says – "these are not isolated instances."
"Gambling-related suicides and crime are soaring as governments and universities like Penn State aggressively push addictive gambling activities on citizenry and students," Kindt writes. "In the late 1990s, outraged by gambling-related murders and by the suicides of newly addicted gamblers, Senators Paul Simon (D-Illinois) and Richard Lugar (R-Indiana) joined with U.S. Representative Frank Wolf (R-Virginia) and 90 percent of the Congress voted to enact the historic U.S. National Gambling Impact Study Commission."
Kindt says that "governments should not be partnering with Big Gambling, which unlike consumer businesses creates an adversarial relationship to exploit and defraud the gambler legally and which is now being expanded via internet gambling and enhanced algorithms to target kids and vulnerable minorities."
"In drug addiction, the addict must find and haggle with a pusher on a street corner, but with gambling addiction, the addict has access to pushers on every school computer, office computer, and cell phone – just 'click your mouse, lose your house.'"