Typical of the hype fueling the rise of obesity drugs is an article from The Economist magazine from earlier this year titled – A new class of drugs for weight loss could end obesity –  and subtitled –  They promise riches for drugmakers, huge savings for health systems and better lives for millions.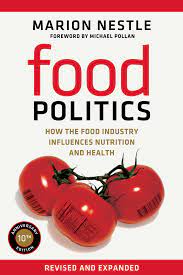 But Marion Nestle (rhymes with vessel – I have nothing to do with the food company Nestle, she says) has her doubts.
She is the NYU public health expert and author of fifteen books, including civic classics Food Politics: How the Food Industry Influences Nutrition and Health (2002) and Soda Politics: Taking on Big Soda (and Winning) (2015).
"What's going on is that seventy percent of the adult population is overweight or obese," Nestle told Corporate Crime Reporter in an interview last month. "Dieting is impossible for most people. Eating less and moving more works every time if you can do it. But most people can't do it. It's almost impossible for most people. People go on diets to lose weight and the weight comes back."
"We live in a food environment that encourages people to eat as much food as possible. And to be one person fighting an entire food system, it's really impossible for most people."
"That idea that suddenly there is an easy approach to dealing with the whole problem is extremely attractive. All you have to do is take a pill and the problems are solved. This is a way that the drug industry has convinced Americans forever that this is the way to go."
"Why bother to try and change your lifestyle when you can just take a pill and be done with it? These pills are very expensive. They have side effects. And there is a fair amount of evidence that people are not taking them regularly."
"The jury is still out on these drugs. We don't know enough about them yet to be able to say whether they are going to work. But if I had a choice between a drug and surgery, I'd pick a drug."
"Anything we can do to help solve this difficult problem people are in favor of. And so most experts are greatly in favor of the drug. I'm trying to be open minded. I'm not usually in favor of drug approaches to these kinds of problems. There are some people who can move more, lose weight and keep the weight off. But they are so rare, there is a registry of such individuals. They have been studied extensively."
"How do they do it? They eat less. They move more. They are physically active. They watch their diets. They weigh themselves. They do some pretty simple things. But they are very unusual."
In the 1960s, President Kennedy sent an exercise song to every elementary school. It was called – Go You Chicken Fat Go. And we would do exercises in the morning to this song. And when you look at pictures of our kindergarten at Hyde Park elementary school, they look like they are hyper thin.
So, it wasn't just personal choice that led to the obesity epidemic. There was a public policy change?
"No question about that," Nestle says. "And I can date it quite precisely to 1980. President Reagan was elected with a neoliberal agenda. It involved an enormous amount of deregulation. And one of the agenda items that was deregulated was the ability to sell foods to kids. That was just one example."
"And 1981 marked the beginning of the shareholder value movement. Instead of long-term returns on investments, like IBM, companies had to start producing immediate returns on investments and grow that investment every quarter. That completely changed the way that corporations operated."
"Another factor came in the 1970s – a focus on agriculture to overproduce food. The famous from fence row to fence row. Farmers were going to be rewarded by growing more food through the federal subsidy system."
"Food companies had to sell that food. They had to sell 4,000 calories a day. There was far too much food available in an environment where corporations were required to not only make a profit, but grow that profit constantly."
"Food companies had to figure out ways to get people to eat more. I can remember in the 1980s when muffins suddenly exploded from what we now know as mini-muffins to the great big fat things that have 600 to 800 calories. Muffins went from 200 to 600 or 800 calories. Bagels went from 200 to 600 or 800 calories. And portion sizes at restaurants became enormous. Everybody loved the large portions. And larger portions have more calories. You can't even say it with a straight face because it seems so ridiculous. If you put food in front of people, they are going to eat what's in there. We are hardwired to eat it. So people eat more."
"For one individual to try and fight all of that is ridiculous on its face."
Calley Means is writing a book about this. And he says he started his career consulting for soda companies.
"Early in my career, I consulted for Coke to ensure sugar taxes failed and soda was included in food stamp funding," Means writes. "I say Coke's policies are evil because I saw inside the room. The first step in the playbook was paying the NAACP and other civil rights groups to call opponents racist."
Did you come across that?
"When the city of New York under Bloomberg tried to pass a cap on the size of the sodas that could be sold in New York City, the NAACP sided with the soda industry," Nestle says. "The soda industry has been paying them for years. That's a long complicated story that I wrote about in my book Soda Politics. The black communities did everything they possibly could to try and get the soda companies to hire them and get the soda companies to advertise in their publications."
"Martin Luther King in a speech the night before he died called on his communities and his followers to boycott Coca-Cola, not because Coca-Cola was poisoning them but because Coca-Cola wasn't hiring them."
"But the bottom line is this – the purpose of the food company is to sell food. It has no other purpose. The more it sells and the higher price it can get for it, the happier it is. Nobody in the United States profits if people eat less and move more."
Years ago, we wrote about the American Public Health Association taking money from corporations. And much of the public health association bureaucracy in the United States is conflicted with corporate connections.
"I'm not sure about the public health association. But I certainly know about the nutrition organizations – the Academy of Nutrition and Dietetics and the American Society for Nutrition, which are the two big ones. They both take money from food companies."
[For the complete q/a format Interview with Marion Nestle, see 37 Corporate Crime Reporter 35(13), September 4, 2023, print edition only.]