Robert Clifford is a veteran trial lawyer based in Chicago.
He is currently representing a couple of dozen families suing Boeing in connection with the crash of the Ethiopian Airlines plane in March that claimed the lives of 157 aboard.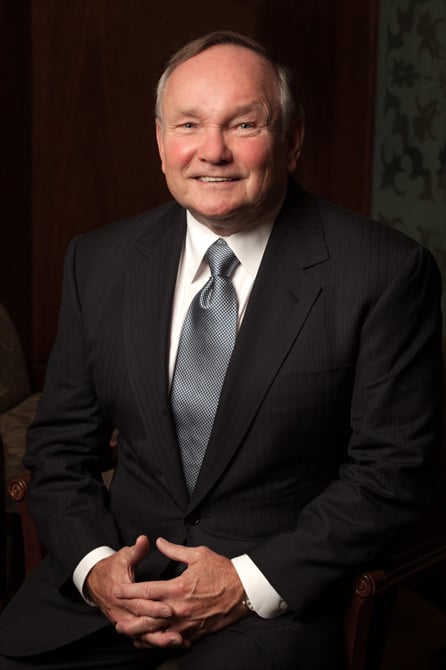 "In the Ethiopian crash, currently there are 47 lawsuits on file," Clifford told Corporate Crime Reporter in an interview last week. "There were 157 people on the plane, including six crew members. As of this date, about one-third of those have filed lawsuits against Boeing in Chicago."
"On the plaintiffs' side, my firm has about two dozen cases – about half of the cases on file – with more in the wings that will be coming once the estates of the deceased are properly opened."
"There were passengers from 35 different countries on the plane. Nairobi is quite the global hub for operations of airlines. I was there just a few weeks ago. I was surprised to look at the departure board and see planes departing from Nairobi International Airport going to all corners of the world."
"There are other players on the plaintiffs' side –  the Kreindler firm in New York, the Podhurst firm in Miami, the Cotchett Pitre firm out of San Francisco. Those are probably the four biggest players at this moment in time. There are other firms that have one or two clients."
There are about 100 passenger families who have not filed lawsuits against Boeing. Do you anticipate that sooner or later they will all file lawsuits against Boeing?
"I do with an asterisk. What you learn and what experience shows, when these disasters occur, the families are in shock for two to three months. That is why right now you see a lot of activity in families hiring lawyers."
"For all of March, April and into May, you didn't see a lot of activity in terms of families reaching out to lawyers. Now you do see it on a regular basis. There are more families choosing lawyers."
"But in a related but different matter, the word on the street is that Boeing is in direct contact with some families. We don't know all of the facts of that. We have yet to cry foul about it."
"There is a federal law that prevents plaintiff lawyers from marketing their services to families within the first 45 days following a crash. Well that same law doesn't exist for the manufacturer or the operator."
Is there any indication that Boeing has already settled cases with families?
"I can't say they have settled cases. There is a strong indication that they have made offers of settlement."
What is that based on?
"It is based on word of mouth in the plaintiffs' bar. Families are interviewing different lawyers before they choose counsel. I had a family in Paris that had been interviewing two other law firms. Luckily for my firm they chose my firm. Similar to a family in Rome – same thing. What is coming out of this activity is just word on the street. I have no independent confirmation of this. And I don't think I have a source for it. But Boeing is now reaching out directly to some families. If that is true, I'd like to know how it has come about."
"I am a firm believer in the goose gander rule. If the plaintiffs' lawyers are prohibited from contacting the families, so should the manufacturers, so should the operators. The law has its origins in the belief that families need quiet time to reflect on their grief and their sorrow and their loss."
(Perkins Coie partner Michael Scoville, the lead lawyer for Boeing in the litigation, did not return calls seeking comment.)
What is the status of the litigation against Boeing?
"Two fronts – Lion Air and Ethiopian Airlines. Again, I'm not involved in the Lion Air case. But the Lion Air case is pending against Judge Thomas Durkin in federal court in Chicago. Judge Durkin, by agreement of the parties, has accepted the idea of staying that litigation so that the parties can participate in a voluntary mediation program. That voluntary mediation program involving all of those Indonesian citizens is about to begin. The mediator is the former Chief Judge of the Circuit Court of Cook County, Judge Donald P. O'Connell. He's one of the most respected mediators in this community."
"That's is what is going on there. They had a status conference last Thursday. If I am correctly informed, their next status conference is in the first part of September."
"In the Ethiopian Airlines case, we appeared on Thursday before Judge Jorge Luis Alonso. He is the District Court Judge before whom all of the Ethiopian cases have been consolidated. These are not class actions. They are consolidated actions."
"There is one law firm that has filed three cases in South Carolina against Boeing. It is our information that those lawsuits are being transferred voluntarily to Chicago. All of the cases involving Ethiopian Airlines will be in Chicago quite soon."
"Boeing's counsel asked the court to order mediation on behalf of all of the families. I spoke out against that. I told Judge Alonso that while I'm sure it is true that there are some families that would readily participate in early mediation, there is a strong number of families, probably the majority of families, that have no interest in early mediation. In fact, what they want is the information from Boeing showing what Boeing knew, when they knew it, what they did with the information, what they are going to do with all of the information about the defects of this plane to prevent a similar occurrence to other families going forward."
"Judge Alonso accepted that view. He rejected the request for early mediation on a mandatory basis. Boeing is certainly free to propose voluntary mediation. Again, I'm sure there are some families who will take advantage of that."
"Our next status conference is September 17. He has set a fact discovery cut off date for May 2020. And this case is now off and running."
"In the federal system, there is a mandatory disclosure rule. Basically it says – open up your cards, put them on the table face up. And that process is unfolding. Boeing's disclosures are due in the first part of September before the next status conference."
Has a trial date been set?
"No. My speculation about that would be sometime in 2021. It is not at all uncommon in the federal system for a trial date to gravitate around the two year anniversary of the event. Give or take March of 2021, spring of 2021. But the judge hasn't gotten to that point yet."
How would you explain the difference in approach between the attorneys representing the families in the Lion Air case and the attorneys representing families in the Ethiopian Airlines cases? One set of attorneys says –  let's mediate. And the other says – put your cards on the table face up?
"You have to remember that while both of these crashes involve the 737 Max, there is a deep belief that there is a significant difference between the two crashes that stems from what was known to Boeing between the Lion Air crash and the Ethiopian crash. We are talking about over four months of time."
"Nowadays of course, whistleblowers are coming forward. We are learning something new everyday that would lead one to believe that there was a lot of chatter about problems with the software – and maybe now the hardware – associated with the operations of the 737 Max between October 2018 and March 2019."
"As preventable as the Lion Air crash was, the Ethiopian crash was even that much more preventable. That was on a lot of minds. That is one of the things that is driving families, like Nadia Milleron and Michael Stumo, to be tireless in forcing Congress to get deep into an inquiry into what occurred. You have Congressional investigations, Department of Justice investigations, the French have opened a separate investigation."
"The idea that the Ethiopian Airlines crash was that much more preventable is on a lot of minds. That is driving the decision making of people relative to the acceptance of mediation."
"There is no amount of zeros, no amount of compensation, that is going to give families the relief they would like to have. In a truly just world, you would undo it all and bring back our loved ones. That can't happen. So we deal with the imperfect system of compensation for people. But that doesn't mean that we have to accept the idea that there is no further justice to be sought by corrective action."
"I have traveled the globe now. Out of the 35 countries, I think I'm up to 20. I am telling you, around the world families want accountability, responsibility, transparency. They want an explanation. They want answers as to why this occurred. To a one they view it as a crass activity that put profits before global aviation safety. Those are strong views from around the world."
The headline in the Wall Street Journal this week was – "Boeing Looks to Settle 737 Max Crash Claims." You are saying – no, let's see what you got, show us the information. Has Boeing made a dollar offer to settle the cases?
"They have not made a dollar offer. If you listen carefully to their words, they are hedging their bets."
"Boeing says they are willing to pay 'full compensatory damages under applicable law.' That's a quote from their lead lawyer, Michael Scoville."
"We are now talking about compensatory damages, not punitive damages. And we are talking about 'under applicable law.' What does that mean? Is that the law of Ethiopia where the crash occurred and we offer people a pittance of what they would be entitled to under American law? And if we apply American law, what American law applies? The law of Illinois? The law of Washington state? The law of South Carolina?"
"What about punitive damages? Punishment ought to be meted out here. Is it the law of France? The law of England? Panama? Kenya?"
"They are parsing their words with a deliberate message that is not compassionate, not generous, not kind. But the words are measured and designed to control their losses."
"I have heard it said that a Bloomberg reporter projected Boeing's losses for the two crashes at $1 billion. My response to that is – maybe that is a good start. But it is far from what ultimately will be paid to these families."
[For the complete q/a format Interview with Robert Clifford, see 33 Corporate Crime Reporter 27(11), print edition only.]