On June 2, 2022, 39-year-old Steven Dierkes, father of three young girls, checked in for work at the Caterpillar foundry in Mapleton, Illinois.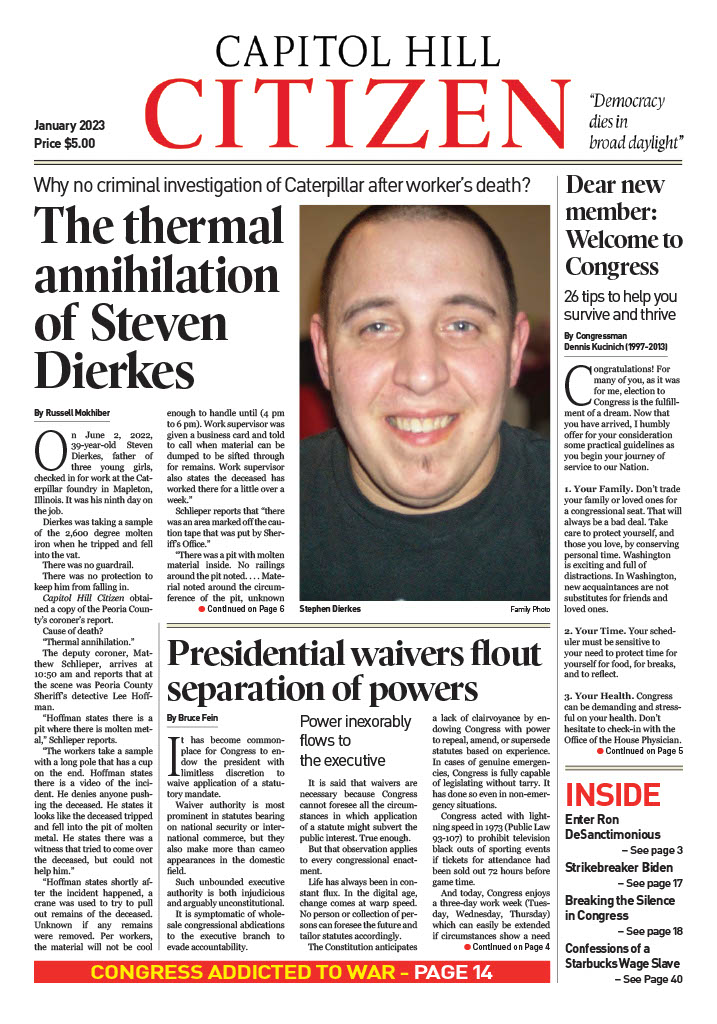 It was his ninth day on the job. Dierkes was taking a sample of the 2,600 degree molten iron when he tripped and fell into the vat. There was no guardrail. There was no protection to keep him from falling in.
The Capitol Hill Citizen, a new newspaper covering Congress (see capitolhillcitizen.com) obtained a copy of the Peoria County's coroner's report.
Cause of death?
"Thermal annihilation."
A search for remains by the coroner's office found only "some bone fragments."
In Chicago, OSHA's regional administrator Bill Donovan said that Steven Dierkes' death "could have been spared if Caterpillar had made sure required safety protections were in place, a fact that only adds to this tragedy."
"Producing more than 150,000 tons each year, Caterpillar's foundry is one of the nation's largest and they should be acutely aware of industry regulations to protect workers using smelters and other dangerous equipment," Donovan said.
OSHA cited Caterpillar Inc. for one willful violation and proposed fines of $145,027, the civil maximum allowed under federal law.
Caterpillar is appealing the finding of willful violation.
There is no sign of a criminal investigation.
Why not?
Similar cases against smaller corporations bring guilty pleas.
Earlier this month, for example, ABC Polymer Industries pled guilty to a willful violation of an Occupational Safety and Health Administration (OSHA) standard that caused a worker's death.
The criminal charge involved an August 16, 2017, incident at the Helena, Alabama, plant owned by ABC Polymer, in which a worker was pulled into a cluster of unguarded moving rollers and killed.
"This victim's tragic death was entirely preventable," said Assistant Attorney General Todd Kim. "Employers who willfully violate OSHA standards are gambling with their employees' health and lives. We will continue to hold accountable those who fail to follow these critical safety rules."
So why isn't Caterpillar being held accountable?
The Citizen reported that for years, Democrats in Congress have introduced legislation (the Protecting America's Workers Act) that would increase civil fines for OSHA violations and make wilful violations subject to felony criminal prosecutions.
But the last time Congress held hearings on the bill was 2010.
One of the lead co-sponsors of the legislation, Congressman Joe Courtney (D-Connecticut), said one of the key provisions of the legislation was to "authorize felony penalties against employers who knowingly commit OSHA violations that result in death or serious bodily injury and extend such penalties to corporate officers and directors."
"Under current law, maximum criminal penalties – no matter how egregious the conduct – are mere misdemeanors," Courtney said.
But the Citizen said that "introducing the bill has been a Democratic public relations stunt since 2010. The legislation is reintroduced periodically. A press release is issued. But there is no action. No hearings. No votes. It's all performative. (Courtney did not respond to calls seeking comment.)"
"What about the state of Illinois?" the Citizen asked. "They could investigate the case for a possible reckless homicide charge against Caterpillar. When Ira Reiner was the District Attorney for Los Angeles, he opened a criminal investigation into every workplace death. And some of those investigations led to criminal prosecutions."
"We wanted to ask Peoria County State's Attorney Linda Hoos – why no criminal investigation? Hoos did not return calls seeking comment," the Citizen reported.
What the Dierkes' case exposes is a double standard of justice, not just between individuals and corporations but also between major powerful multinationals and smaller less powerful ones.
And this failure of the justice system to hold major American corporations accountable for their wrongdoing is having real life consequences.
Last month, OSHA announced that fatal work injuries in 2022 were up 9 percent from the previous year – to 5,190 fatal work injuries – one worker death every 101 minutes.