Marie Walcek is a lawyer who works for a nurses union in Oakland, California.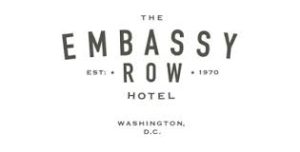 In May 2015, she flew to Washington DC for a business meeting.
She checked into her room at the Embassy Row Hotel off DuPont Circle, closed the door behind her, put her purse and wallet on the floor next to her bed and fell asleep.
When she woke up, she realized that someone had taken the contents of her wallet – including cash and credit cards.
The intruder or intruders, who were never apprehended, spent the next several hours making purchases with Walcek's credit cards at various locations in and around the District of Columbia.
That's according to a lawsuit filed by Walcek in DC Superior Court against The Embassy Row Hotel and its parent corporation Destination Hotels and Resorts.
The lawsuit has survived a motion to dismiss on the negligence count and is now in its discovery phase.
Julie Whitelock, an attorney at Gordon & Rees in Washington, D.C. is representing the Embassy Row Hotel in the case.
"The Embassy Row Hotel takes very seriously the security and safety of its guests, team members, and visitors," Whitelock told Corporate Crime Reporter. "As a matter of policy we are unable to comment on pending lawsuits, and will continue to vigorously defend this action."
Statistics on security in hotels in the United States are not readily available.
In 2009, USA Today ran a story titled Hotel Crime Rises in Recession, But Hotels Say They Are Still Safe.
"The fact is nobody knows how much crime is committed in hotels vs. elsewhere," the paper reported.  "Police don't keep statistics on that, and no hotel companies responded to USA Today's requests for crime data. However, hotel security experts estimate that at least one crime may occur daily in a big-city hotel. And, they say, most are thefts."
The crime against Walcek left her shaken.
According to the complaint, when Walcek awoke at 6 am, she immediately realized that an intruder or intruders had entered her room in the night.
Her wallet, which had been inside her purse on the floor next to the bed, was now laying open, on top of the purse, and its contents had been removed.
About $40.00 in cash was missing, along with Walcek's credit cards and driver's license.
"Upon the realization that an intruder or intruders had entered her room and rifled through her purse as she slept only inches away, Ms. Walcek suffered her first panic attack of the day," the complaint alleges. "Her heart pounded, she had difficulty breathing, and her body trembled and shook. She wept and was gripped by an extreme and incapacitating fear at the thought of the personal danger in which she had been placed, unawares, as she slept in what she believed to be a safe and secure hotel room."
Walcek went directly to the front desk to alert Embassy Row Hotel staff that someone had burglarized her room as she slept.
The door to her room was closed when she exited and it swung shut behind her and closed completely. There was no sign of forced entry.
The woman at the front desk called the police.
Walcek asked the hotel staff whether it was possible to review security camera footage of her floor.
She was told that the hotel didn't have security cameras on the floor.
"The clear intent of this line of questioning, which took place in the hotel lobby, was to suggest that Walcek – and not the Embassy Row Hotel – had negligently enabled the intruder(s) to gain access to her room," the complaint alleges.
"Walcek was visibly distraught throughout this exchange, and she sobbed openly at times while recounting the relevant facts and responding to the questions asked of her," the complaint alleges. "When she finished, Walcek suffered a second panic attack as she stood in the hotel lobby. Again, her heart pounded, she had difficulty breathing, and her body trembled and shook as she was overcome with tears. Embassy Row Hotel staff offered Walcek a free breakfast, but otherwise disregarded her evident distress."
According to the lawsuit, District of Columbia police records indicate that police were called to 2015 Massachusetts Avenue NW, the address of the Embassy Row Hotel, no fewer than 70 times from July 2013 until May 18, 2015, the date on which Walcek's room was burglarized.