Had the Boeing engineers responsible for what Captain Sully Sullenberger called the "death trap" that is the Boeing 737 Max8 read Ethics Politics and Whistleblowing in Engineering by Rania Milleron and Nicholas Sakellariou (CRC Press, Taylor & Francis Group, 2018) and taken it to heart, perhaps things would have turned out differently.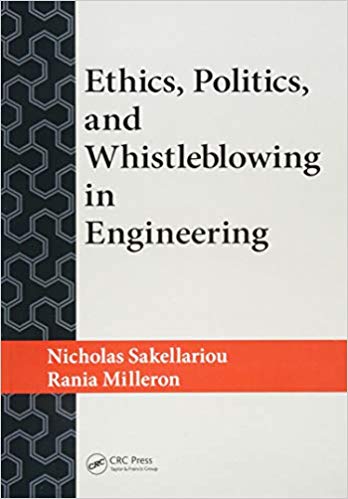 No doubt, the Boeing engineers were up against it.
Aerospace engineer Cynthia Cole, who led the Society of Professional Engineering Employees in Aerospace (SPEEA) until 2010, told the New Republic earlier this year – "it was two camps of managers, the Boeing Boy Scouts and the hunter killer assassins."
"How do you merge those two management philosophies? The hunter killer assassins will destroy the Boy Scouts. That's what happens."
Unless the engineers grow a spine.
The book could have been called – Engineers: Grow a Spine.
Milleron, a microbiologist at the Texas Department of State Health Services and Sakellariou, a lecturer in engineering at California Polytechnic State University, have pulled together 22 essays about ethics and engineering ranging from "Dead Poets and Engineers" by Domenico Grasso to "Knowing How to Blow the Whistle" by Tekla Perry to "Can Real Women be Imaginary Engineers?" by Milleron.
But it's Ralph Nader's foreword that ties the essays together and sends the underlying message of the book to the profession.
"When and how to blow the whistle invoking legal safeguards, how to appeal to outside professional societies whose ethical codes you are invoking, and how to participate in strengthening these societies' fortitude and their work on product standards are all central to the courageous stands of stalwart professionals," Nader writes. "Yet, as the articles in this book reveal, the structures of professional independence and defense of aggrieved members are sorely lacking, to the ultimate detriment of the trusting public, consumers and taxpayers. Big negligent or willful technological disasters may be coming in our intricate, dependent, vulnerable world."
Professional fortitude was sorely lacking in the Boeing case. And the result was the crash in October 2018 of Lion Air's Flight 610, a Boeing 737 Max 8, into the Java Sea after taking off from Jakarta, Indonesia, killing all 189 passengers and crew on board and the crash on March 10, 2019 of Ethiopian Airlines Flight 302, a Boeing 737 Max 8, off from Addis Ababa killing all 157 passengers and crew on board.
The Seattle Times reported earlier this month that seven weeks after the Ethiopian Airlines crash in March, a Boeing engineer submitted an internal ethics complaint alleging that management – maybe Cole's  "hunter killer assassins" – determined to keep down costs for airline customers – had blocked significant safety improvements during the jet's development.
The Times reported that the ethics charge, filed by 33-year-old engineer Curtis Ewbank, whose job involved studying past crashes and using that information to make new planes safer, describes how around 2014 his group presented to managers and senior executives a proposal to add various safety upgrades to the Max.
The Times reported that the complaint suggests that one of the proposed systems could have potentially prevented the crashes in Indonesia and Ethiopia that killed 346 people. Three of Ewbank's former colleagues interviewed for the Times story concurred.
"Given the nature of this complaint, the fear of retaliation is high, despite all official assurances that this should not be the case," Ewbank wrote. "There is a suppressive cultural attitude towards criticism of corporate policy – especially if that criticism comes as a result of fatal accidents."
Or as Nader wrote in the foreword  "the structures of professional independence and defense of aggrieved members are sorely lacking, to the ultimate detriment of the trusting public."